---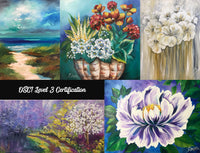 Certification - One Stroke Level 3 In-Person Nov 2-4, 2023 - $539
This course is a 3-Day instructor-led event taught by Michelle James, Master Elite Instructor.
Location:  Michelle James' home, Clermont, FL
Dates:  Nov 2-4, 2023 or Available by Request
Cost includes:
Cost includes:
Three Days of In-Person Class Instruction

Instructional Manual
Step-by-Step worksheets
2 Instructional DVDs
One-on-One Online Instruction via Zoom
Sponge painters
Multi-Surface Paints
Set of Level 3 Brushes
Set of Level 3 Palette/Painting Knives
All surfaces on which you will paint your completed projects
Certificate and Name Badge upon passing the certification
Cost does NOT include lodging, food, transportation nor shipping.
Deposit is due at registration, Final Payment is due no later than 30 days prior to event start date.
Deposit - $259.00*   Final Payment - $280.00
Payment Plans Available By Request
Education Refunds:

All deposits for education events are non-refundable.  All Paid Funds are non-refundable within 30 days from class start date.   Michelle My Belle Designs reserves the right to change any location of an In-Person Education event within a 35 mile radius of original location.  All attendees will be contacted when/if changes occur.   Michelle My Belle Designs reserves the right to modify the agenda, instructor and class content.  In certain circumstances we may allow a deposit to be transferred to a future Education event*.  Please contact MichelleLJames1967@gmail.com to inquire about these special circumstances.  
*If a transfer to a different Education event is approved by Michelle, only one transfer will be permitted per paid registration fee.  $25 Transfer fee will apply to any approved transfers.  All Education events are non-transferable to another person.