---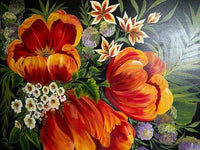 Certification - Oversize Canvas At-Home - $633
Course Instructor:  Michelle James, Master Elite Instructor
Dates: 
Mutually Agreed Upon between Student and Instructor
This course focuses on teaching the student how to design and create large-sized elements on a large-sized canvas.  Best elements for this course include large florals, sea creatures, up-close structures, etc.  Highly detailed distant landscapes do not qualify for this course.  The student and instructor must agree on the subject for the painting in advance.  Product image is an acceptable example, but not exclusive for this course.
Cost includes:

Instructional Manual

Online One-on-One Oversize Painting Design and Creation Process Instruction
Qty 2 - 30"x40" 1-3/8" Canvases 
Multi-Surface Paints (color ranges and photo of subject for painting must be emailed upon request)
Certificate and Name Badge upon passing the certification
Cost does NOT include cost of shipping canvases and certification materials/kit.
We also offer free email support and phone support. Phone support must be scheduled by appt. Students have 4 months from the Certification Kickoff Lesson to complete and submit the painting for review. 
All painted projects m
ust 
be graded by Michelle James.  
Extension fees of $25 for 1 month and an additional $50 for 2 months will apply beyond this time frame for any incomplete requirements.
Clear, sharp, well-lit digital photos of boards are to be mailed along with completed self-evaluation forms to MichelleLJames1967@gmail.com.
Deposit is due at registration, materials will be shipped  upon receipt of deposit

Final Payment is due with project painting submission
Deposit - $299* plus shipping of certification kit and canvases
Final Payment - $334
Payment Plans Available Upon Request
All deposits for education events are non-refundable.  All Paid Funds are non-refundable within 30 days from class start date.  Michelle My Belle Designs reserves the right to modify the agenda, instructor and class content.  In certain circumstances we may allow a deposit to be transferred to a future Education event*.  Please contact MichelleLJames1967@gmail.com to inquire about these special circumstances.  
*If a transfer to a different Education event is approved by Michelle, only one transfer will be permitted per paid registration fee.  $25 Transfer fee will apply to any approved transfers.  All Education events are non-transferable to another person.