---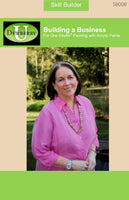 Skill Builder SB008 - Building a Business Booklet and Lessons
The 8th Skill Builder covers everything you need to know to prepare for teaching and building a business in One Stroke painting.  Whether you plan to teach, sell hand-painted items or start a custom decorative painting and mural business, Donna takes you through all the things she knows are key to a successful business.
Purchase includes SB008 booklet with free US domestic shipping and up to two hours of Zoom Online Lessons with Michelle James.  International shipping charges apply.  NOTE:  If you are pursuing One Stroke Instructor Certification using the Skill Builder Program you must engage with a Dewberry U Faculty Member.  Purchase of all Skill Builder Supply Kits and Level 1 Certification Kit is required for the certification program as well.  No exceptions.
Submit the completed projects and assignments to Michelle James at MichelleLJames1967@gmail.com for critique and if you pass, you'll receive a certificate of completion.  Be sure to include your mailing address and phone number on any correspondence.  Purchasing the paint kit and tool kit (sold separately) is required to receive a critique from Michelle and certificate upon passing.  
To complete a Skill Builder and receive a corresponding certificate from Dewberry U, you must send pictures of all finished assignments found in the Skill Builder booklet. 
 **Please make note: All online lessons and Skill Builder booklets purchased are non-refundable